Features
Specifications
Options
Tutorials
The BF8000 SL is designed to feed out round bales up to 6' in diameter and weighing up to 2,500 lbs. The BF8000SL is equipped with a hydraulic loading arm and two prong bale spear, to lift and place the bale on the table. The loading arm can also be used to carry a second bale to the field. Once placed on the table, an apron chain rotates the bale as the drum's fingers unravel the hay. As the core of the bale is approached, the table can be tilted increasing contact between the bale and the drum ensuring the entire bale is fed out.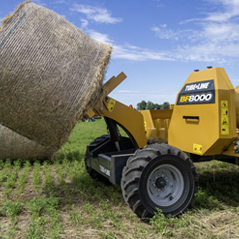 Self Loading
The BF8000SL has a hydraulic self loading design removing any need for additional equipment to load bales onto the BaleFeeder table.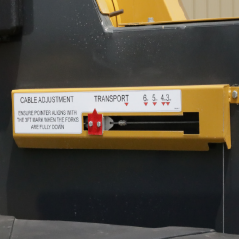 Loading Arm Position Indicator
The mechanical loading arm position indicator lets you know when the bale spears are in the ideal position for loading different sizes of bales, or when the loading arm is in position for transporting.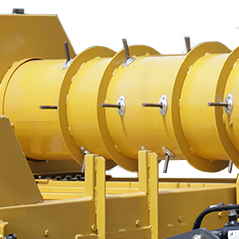 Retractable Fingers
The BaleFeeder's drum uses retractable fingers to grab and fluff the bale on the table side, while retracting back into the drum on the unloading side preventing material from being pulled back under the drum back onto the table.
Other Standard Features
Apron Chain Conveyor
Table Angles up to 22.5°
| Specifications | BF8000 SL |
| --- | --- |
| Unit Type | Trailed, Self Loading |
| Height | 66" |
| Width | 119" |
| Length | 221" |
| Weight | 3,700 lbs. |
| For use with | Hay, Straw, Baleage, Silage |
| Bale Size | 4-5' Wide up to 6' Round |
| Bale Weight | 2,500 lbs. maximum |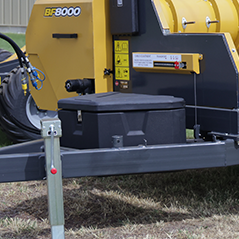 Storage Box
A storage box can be added to the tongue of the BF8000 SL. It's the ideal place to discard both net and bale wrap when in the field.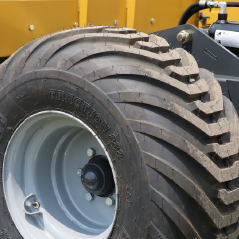 Implement Tires
400/60-15.5 implement tires.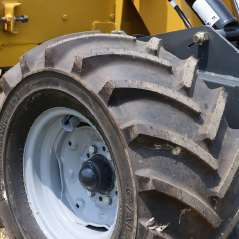 Tractor Lug Tires
31x15.50-15 tractor lug tires.
Dispatching Bale From Table

Loading Bales

Tightening Bed Chain

Replacing Fingers

Mechanical Diverter Valve Pad

Best Practices

Removing Netting